Within ESN, we believe that the health and well-being of education workers are vital factors for building quality education systems. To help promote the health and well-being of teachers at work, ESN carries out several efforts with its members and partners, including organising collaborative workshops, training and international surveys, on the theme of health at work.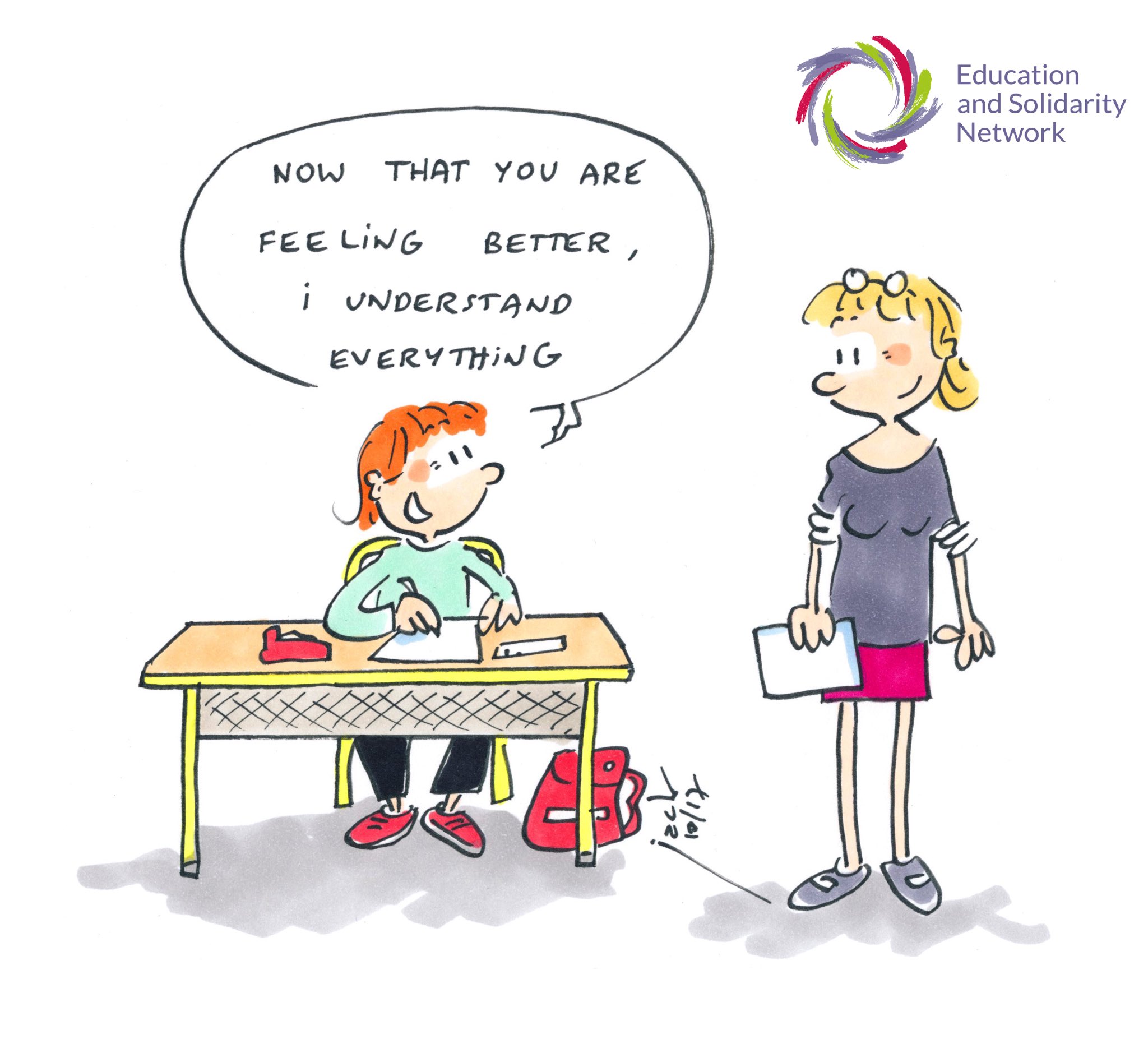 International Survey on the Determinants of the Occupational Health of Education Professionals
Between 2014 and 2015, the Education and Solidarity Network conducted an international survey on the determinants of education professionals' occupational health in seven countries: France, United States, Canada, Australia, Colombia, Salvador, Portugal.
The idea of conducting such a survey came about at the XXth, triennial World Congress on Health and Safety at Work in 2014. In his speech, Guy Ryder, the ILO Director-General, underlined the need for reliable data on the subject:
"We live in the Information Age where policy-makers have access to data on all issues. But in relation to occupational health and safety we lack data to design and implement evidence-based policies and programmes. That's a failure – also of political will."
It is in this context that ESN and its members have begun to reflect on the determinants of occupational health of educational staff. This led them to launch an international survey project aimed at deepening the knowledge on the working conditions of education professionals in different countries.
The survey is the result of several months of collaborative work by various ESN member organisations:
NEA MB, United States
CSQ, Canada
THF, Australia
MGEN, France
Other member organisations have also supported, including:
CIESS, Mexico
MNET, Tunisia
MGEN, Morocco
Developed by members of the Network, the questionnaire consisted of 38 questions from WHO and OECD surveys. It was inspired by a broad vision of health, that was given by WHO in the preamble to its Constitution: "Health is a state of complete physical, mental and social well-being, and not merely the absence of disease or infirmity". The inquiry was unique due to its double dimension: it contained descriptive statistics, but was also interspersed with statistical data in order to determine which factors influence education professionals' satisfaction in terms of health and quality of life.
Available in three languages (French, English, Spanish) and distributed online as well as in print, the questionnaire was completed by more than 3,000 respondents across the world. A comparative global report on five countries (France, United States, Canada, Australia, Colombia) was produced, as well as seven country reports. Here are some of the results of the survey.
Survey on teachers' health with the Comité Syndicale Francophone de l'Education et de la Formation (CSFEF):
In 2018, ESN and the CSFEF collaborated to create and carry out a questionnaire on the occupational health of educational staff in order to draw up an inventory of working conditions, access to healthcare, health rights and the role of unions in the French-speaking world.
During the XVth CSFEF Meeting in Antananarivo, the issue of teachers' health, and unions and governments awareness of this was raised and widely discussed by the unions participating in occupational health workshop. From this collective reflection came two observations:
a lack of awareness around the issue of occupational health and health rights;
the interest of CSFEF education unions members to approach the topic.
Given these findings, ESN and the CSFEF decided to collaborate to conduct a survey on teachers' health. The CSFEF and ESN mobilised the education unions of the French-speaking world. A total of sixteen countries have been represented thanks to the responses of EI-affiliated unions and CSFEF members: Belgium, Benin, Burkina Faso, Canada, Cape Verde, France, Guinea, Mauritius, Lebanon, Republic of Congo, Romania, Senegal, Switzerland, Chad, Tunisia and Togo.
The 2018 Panorama Focus Health survey was based on a mixed method:
a quantitative method based on the analysis of responses to an online questionnaire, which aimed to provide a general overview of the health and well-being of teachers
a qualitative method based on the analysis of semi-structured interviews conducted by ESN, which aimed to collect teachers' experiences and perceptions about health and well-being at work.
After collecting data from questionnaires and interviews between June and August 2018, ESN conducted data analysis and report writing. A summary of the results of the survey was presented by Matthias Savignac, ESN President, in September 2018, during the XVIst CSFEF Meeting in Paris.
Organisation of occupational health workshops for education professionals
ESN designs and leads collaborative workshops on the topic of education professionals' health and well-being at work. It supports organisations wishing to set up such meetings by providing not only expertise on content, but also on format using innovative facilitation techniques based on collective intelligence.
October 2014: Workshop on Health and Social Protection
During the XIVth CSFEF Meeting in 2014 in Dakar, ESN co-hosted a workshop on the subject of health and social protection with Awa Wade, Secretary General of the Union Démocratique des Enseignantes et Enseignants du Sénégal (UDEN).
February 2015: Participatory workshop on the topic of health at school
At the Africa Regional Conference of International Education in Nairobi, Kenya, ESN co-organised a participatory workshop on the topic of health in schools, with Mr Fridolin Mve Messa from SENA (Gabon), and Marie-Antoinette Corr-Jack from GTU (The Gambia).
May 2016: organisation of a symposium on promoting health at school at the World Congress of the International Union for Health Promotion and Education (IUHPE) in Brazil.
August 2016: Collaborative workshop on teachers' health and well-being
During the annual meeting of Education International's research group, ESN co-organised, with NASUWT union (United Kingdom), a collaborative session on teachers' health and well-being.
September 2016: Organisation of an ESN/SHE collaborative seminar at Château de La Verrière on the theme of education quality by improving health and well-being.
February 2018: Fishbowl workshop on the theme of "work-life balance" as part of the third EI World Women's Conference, with around twenty participants and union leader representatives coming from all over the world.