The ESN brought its members and partners together for an international work session on "education on social protection", Thursday 3 March 2022. Supported by presentations of initiatives in Europe, Latin America and Africa, the online meeting enabled networks to be set up and good practices on this topic to be exchanged.
Presented by Elisa Torrenegra, director of the Colombian association of mutuals Gestarsalud and administrator for the Education and Solidarity Network for the Latin America region, the meeting enabled over 30 representatives of education unions, Social Solidarity Economy associations and social protection agencies from several regions of the world to meet.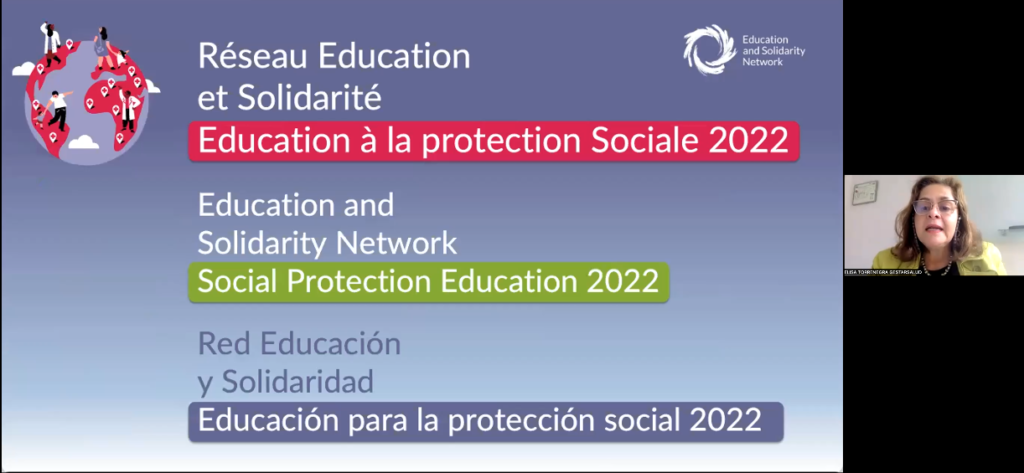 Today, the human right to social protection has still not become a reality: the vast majority of the global population – over 4 billion people – does not have any social protection. In an introduction, Victoria Giroud-Castiella of the Department of Social Protection of the International Labour Office (ILO), presented the role of the creation of a culture of social protection in order to achieve universal social protection.
As well as solidarity, Victoria Giroud-Castiella emphasised that the trust of populations in social protection systems plays a central role in the extension of coverage, and that beneficiaries must fully understand and experience the value of social protection.
Experience shows that countries that were able to extend their social protection coverage to their population have, as well as political and technical measures, designed and implemented programmes aimed at developing a culture of social protection. These programmes aim to promote values, principles, duties in social security matters, but also the ways in which social protection works.
The creature of a social protection culture is a specific process for each context that concerns society as a whole and rests on a strong political will. In this process of developing social protection systems, Victoria Giroud-Castiella emphasised the importance of mobilising social partners that are aware of the needs of employers and workers, as well as young people, who are the actors of the future.
Finally, Victoria Giroud-Castiella presented multiple campaigns of the International Labour Office (ILO) on this topic. On a national level, the ILO is implementing campaigns for creating the culture as part of development aid programmes in each country. Another example of an international campaign; the ILO is creating an introduction to social protection MOOC with the EN3S, aimed at students or agencies from the United Nations. The objective will then be to adapt the MOOC to make it an educational tool for school pupils, via their teachers.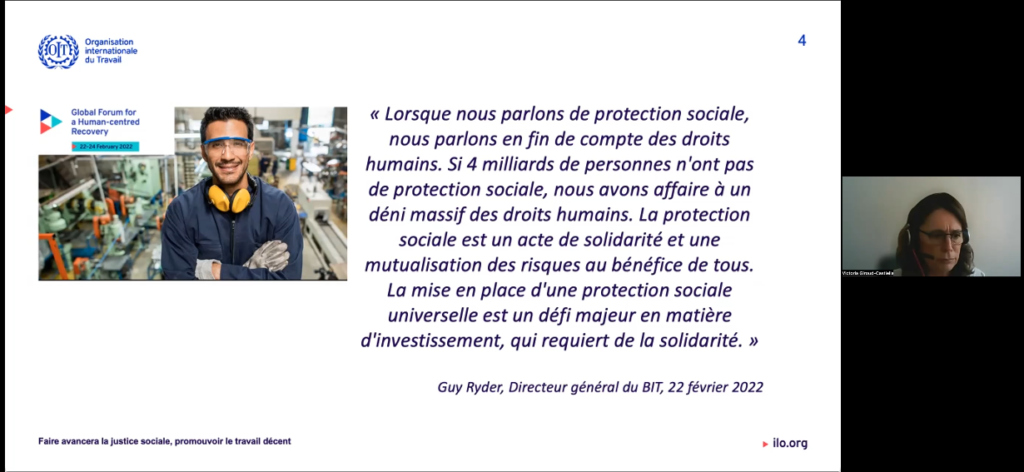 Following the meeting, four initiatives enabling the creation of a culture of social protection were presented.
In a second part, two national social protection education programmes from Latin America were shown to participants.
Eduardo Mendez, of the Social Security institution Banco de Prevision Social (Uruguay) introduced the Uruguayan experience, a reference on an international level. In 2007, Uruguay launched a social security education initiative with the aim of making citizens aware of their rights and duties in social security matters. Thanks to a joint effort between the social security administration (Banco de Prevision Social) and institutions in the field of education an culture, obligatory content on rights and duties in social security matters was included in the programmes of all public and private schools and professional training institutions on all levels. The educational material (included in textbooks) tackled different issues depending on the age of the pupils, subjects, citizenship education, mathematics (subscription calculations), biology (maternity, health) etc.
David Jaramillo, of the International Labour Organisation – Ecuador presented several axes of the Social Protection educational programme run by the United Nations in Ecuador. Studies conducted on the knowledge, beliefs, obstacles of individual people to access to social protection in Ecuador led to the creation of a strategy to raise awareness and implement multiple campaigns to raise awareness among young people regarding their rights in social protection matters, particularly via the initiative "Hablemos la Plena" ("Let's speak plainly") bringing together live podcasts on social networks presented by young people for young people. David Jaramillo also mentioned the preparation of a strategic plan for institutionalising the creation of a culture of social protection in Ecuador.
Finally, the PASS Programme introduced its social protection training campaigns aimed at management, civil servants in public administration in Africa, rural cooperative leaders or even women in Social Solidarity Economy in rural zones.
The mission of the Education and Solidarity Network is to promote the exchange of good practices on the topics of education and extending social solidarity protection systems. Future international meetings will provide an opportunity to promote the expertise of its members and partners on the topic of creating a culture of social protection. The next workshops organised will focus on the role of digital tools for raising awareness of social protection, as well as campaigns for professionalising social protection agencies and advocating for trade unions. Please contact secretariat[@]educationsolidarite.org if you wish to receive more information about these exchanges.