On the initiative of the Fédération nationale de la Mutualité Française, Place de la Santé – l'Observatoire aims to inform public debate by analysing data and conducting opinion polls. On 23 June 2021, Séverine Salgado, Director General of the Mutualité Française and Michel Couhert, Director of Health Care, presented the results of Place de la Santé – Observatoire observatory on mental health.
Mutualité Française has long been involved in mental health in France and its involvement has been strengthened, notably through its forthcoming contribution to the health conference, following the COVID crisis – a factor that has aggravated or triggered mental disorders. This focuses on three areas: developing a mental health culture, facilitating access to care and improving financial access to care.
A very weak mental health culture
According to the Observatory on mental health, the prevention of mental disorders in France is very insufficient. The population's poor level of wellbeing is reflected and encouraged by a very high consumption of addictive substances such as drugs, alcohol and psychotropic drugs and a suicide rate that is one of the highest in Europe. In response to this problem, mutual insurance companies are trying to communicate with young people and the general public with the aim of destigmatising these disorders and helping people to recognise them, thus speeding up treatment. It is also about conveying a more positive image of mental health and breaking down the taboos surrounding it.
Young people and the elderly are more prone to mental disorders and have a reduced life expectancy. Offering early screening for the youngest, particularly in schools, and strengthening preventive medicine would also make it possible to better anticipate mental disorders and to take care of the people in question more quickly.
Inequalities in access to care
In addition, access to care is uneven across France. There are more psychologists in urban areas while rural areas face a shortage of doctors whose average age is increasing every year. This leads to long queues that result in late treatment of patients, which is often taken over by the general practitioner due to the lack of availability of psychologists. However, general practitioners are not specially trained to treat cases of mental disorders and sometimes offer inappropriate drug treatment. Moreover, we note that recourse to the use of psychotropic drugs is often systematic, in contrast to a psychologist's consultation.
Facilitating access to care is achieved through care adapted for patients, and the integration of psychologists in the care pathway to avoid the systematic use of psychotropic drugs. To achieve this, the emergence of new professions, trainers, peer helpers, etc. must be encouraged. Care must be gradual and adapted to the severity of the disorders and the regional available services. When patients are discharged from hospital, they need to be supported, for example in reception centres, to ensure continuity of care but also to enable them to become more independent.
Financial barriers to access to care
The consumption of health care is also slowed down by high expenses and out-of-pocket costs. Mental health now represents the largest expense for the French health insurance system and the remaining cost of care is three times higher for patients with mental disorders than for other patients. Because of these financial obstacles, patients too often forego psychotherapy and unfortunately turn to the use of psychotropic drugs. Financial access to care can be improved by studying the form of coverage of psychologists' consultations with all actors, but also by capping the price of private rooms in hospitals and also by directing the cost of Health Insurance towards the transformation of the modes of care.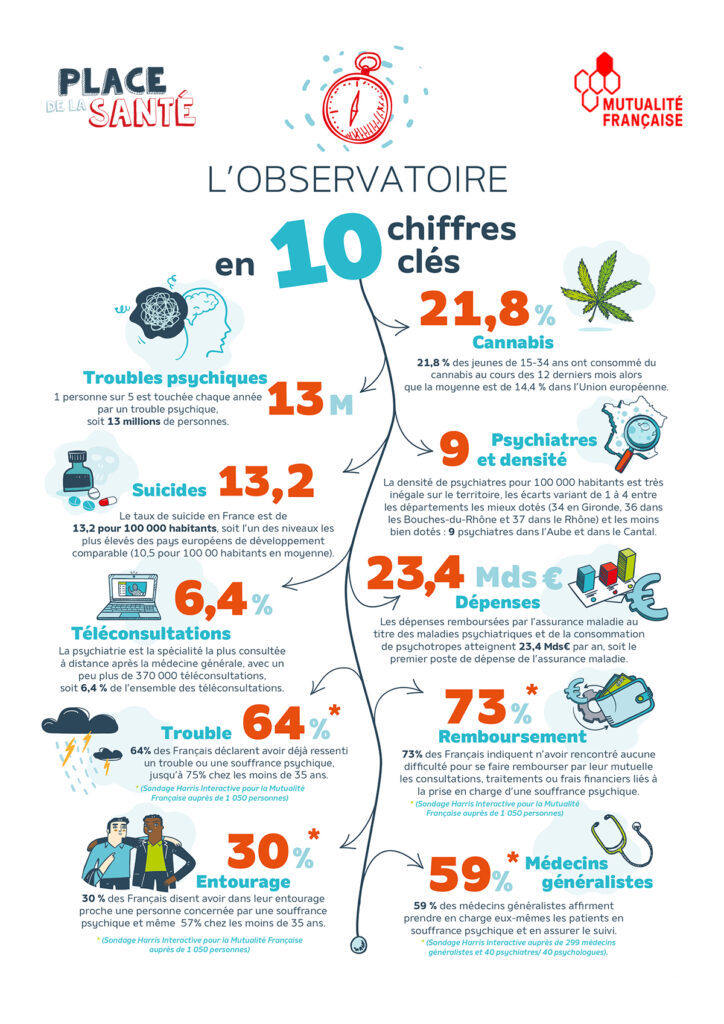 The Mutualité Française (Fédération nationale de la Mutualité Française – FNMF; French National Federation of Health Mutuals) is the professional union of health mutual societies. FNMF is a key player in the world of social protection and health and the leading private health actor in France. It is a federation of mutual insurance companies involved in supplementary health, care and support services, provident and pension schemes and preventative healthcare.
An article by Gaëlle Rimaud, project assistant at the ESN.