"Bonnet percé" is a role play on the representations and stereotypes related to the right to health created by ESSENTIEL and secondary school students, within the framework of a Solidarity Tandem organized between ESSENTIEL and a class of 5th graders of the Jean Mermoz secondary school in Nozay, with the support of the Solidarity Tandem plan (PDLCI network).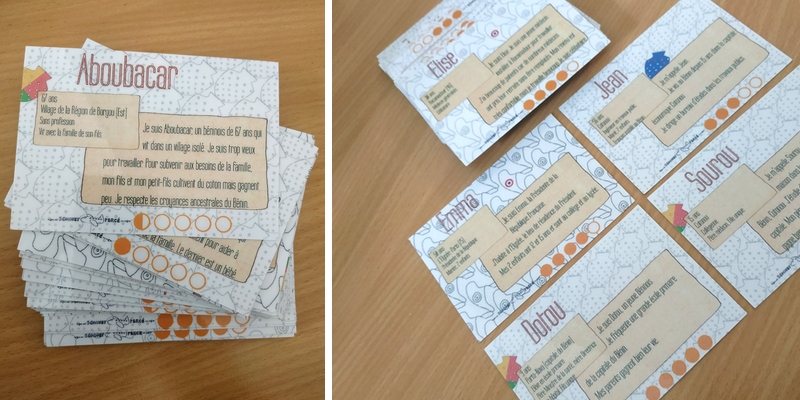 What is "Bonnet percé"?
Players take on the role of a French or Beninese character and must react to situations related to human rights and the right to health.
The game allows players to experiment with specific cases; the players move in the space according to their reaction to each situation.
Which of them will move forward quickly? Which of them will stand still or move only very slowly?
Based on simple rules, it provides a "physical" awareness of health and human rights inequalities.
It is suitable for players from 12 to 99 years old for a group of 5 to 36 players (game duration from 20 minutes to 1 hour).
It is now possible to order the game Bonnet Percé from ESSENTIEL or to download it here: http://essentiel-international.org/?p=9840 
In case of questions or for an animation based on this game, contact ESSENTIEL: essentiel-international.org/?page_id=16
ESSENTIEL's actions and tools for Education to Citizenship and International Solidarity
For the last 5 years, ESSENTIEL has placed the development of Education for Citizenship and International Solidarity (ECSI) at the centre of its work in France.
Education for citizenship and solidarity (ECSI) is a process of developing citizens' knowledge and responsibility. For ESSENTIEL, the objective is to inform, to help people to understand and to instil the desire to engage with the issues of solidarity in health. The preferred media chosen are documentary films, games and debate facilitation techniques.
This work is guided by the definition of ECSI (Education for Citizenship and Solidarity) in the Educasol Charter (March 2015): "Education for citizenship and international solidarity (ECSI) is a social and political process whose aim is to encourage individual and collective contribution to the construction of a just, united and sustainable world. It is based on a lifelong learning process ."
ESSENTIEL's solidarity education work for young people and schools now has a catalogue: Déclic Santé (Click Health)!
It is a collection of 11 workshops for classes (middle school, high school) and youth groups (civic service volunteers, neighbourhood centres, junior associations).
Centred around the screening of a documentary, a role-playing game or a debate tool, the exchanges aim to change representations and behaviours on the issues of solidarity in health.